CONTENT

News

Anna Netrebko

Maria Callas

Elisabeth Schwarzkopf

Birgit Nilsson

Natalie Dessay

Magdalena Kozena

Cecilia Bartoli

Joan Sutherland

Beverly Sills

Anne Sofie von Otter

Renée Fleming

Frederica von Stade

Vesselina Kasarova






All items books are delivered worldwide by Amazon USA.



New releases on CD and DVD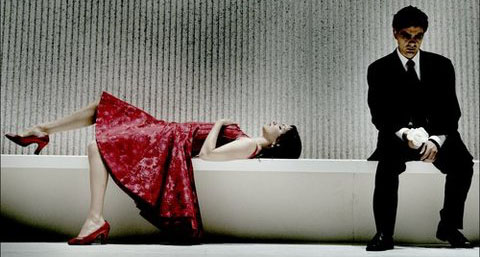 La Traviata
The first complete recording of Anna Netrebko and Rolando Villazon on stage will be available on Deutsche Grammophon in record time this fall! With scalped tickets in the thousands of euros, this Salzburg Traviata has not only been the hottest ticket since the days of Karajan – it's already being hyped as the biggest recording of the year. La Traviata is and will always be a singer's opera, and in Salzburg was realised on the highest level. Next to Anna Netrebko and Rolando Villazon in their signature roles, Thomas Hampson was in fine voice and proved the model of bourgeois decorum in the role of Giorgio Germont Conductor Carlo Rizzi is leading Wiener Philharmoniker with an attitude that is highly supportive of the singers and keenly sensitive to the drama unfolding before him.


Now on DVD!!!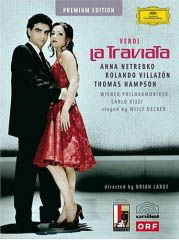 *DVD* La Traviata / Anna Netrebko, Rolando Villazon (Deluxe Edition) (2006)

The complete opera live from Salzburg

Extra-material "Behind the Scenes" - the making of La Traviata (44 min)

Additional material from "Netrebko – The Woman – The Voice"

A video clip with an introduction to the opera by Rolando Villazon

Picture gallery; discography

In DTS 5.1 Surround Sound and filmed in High Definition


---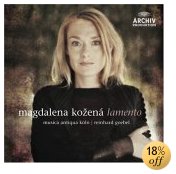 Lamento - Magdalena Kozena (August 2005)

This is a collection of works by the Bach family--J.S., C.P.E., and J.C.--and includes a transcription by Johann Sebastian of a cantata by the Italian composer Francesco Conti (1682-1732). As the title suggests, these works all deal with grief; indeed, the first work, by J.C. Bach (1642-1703), "Ach, dass ich Wassers g'nug hätte," a plea by the singer to shed enough tears to have her sins forgiven, begins with the word "Ach" repeated four times. Kozena fills it with such understated sadness that it's unforgettable. In this work and throughout she sings with a legato that is flawless, tone that always finds the right dynamic for each word, and an ease of emission which makes her presentation of these works seem as natural as speech. The Conti cantata ends with a 90-second "Alleluja" that is ablaze with coloratura, and not a note is out of place; it is a nice contrast with the shadowy, lachrymose nature of the rest of the selections. Kozena's depth of feeling is matched by her ability to express it simply. Along with her colorful sound palette, she and conductor Reinhard Goebel and his Musica Antiqua Köln turn this disc in to a "must-have" for lovers of rare Baroque music and beautiful singing.


---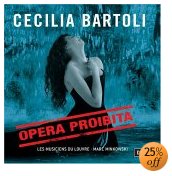 Cecilia Bartoli ~ Opera Proibita (September 2005)

Cecilia Bartoli's new CD features a collection of music that could not be heard in her native Rome at the start of the 18th century due to Papal censorship. Theaters, the Church felt, were places of evil and corruption and operas led people to immorality. But some music-loving senior members of the priesthood asked composers to write oratorios and cantatas--indeed, operas without staging, essentially--for their own private entertainment. Call it what you will, the music is sensational--by turns virtuosic, gentle, and playful--and always expressive: just right, it seems, for Cecilia Bartoli's temperament. The opening aria on the CD, a call for peace in the name of Jesus, is, in fact, a dazzling martial air with trumpets blaring and the voice going through an amazing array of coloratura fireworks. It shows Bartoli at her most aggressive. The listener is practically hurled back from the speakers when she begins, with rapid-fire runs and trills and cascades of notes, all perfectly in place. Showy arias are offset by several tender ones ("Lascia la spina" from Handel's Il trionfo del Tempo e del Disinganno returns in the composer's Rinaldo, four years later, as the now-famous "Lascia ch'io pianga"), and Bartoli exhibits again, her many, many levels of pianissimo and sensitive phrasing. Marc Minkowski and his Musiciens are just right for this repertoire and back Bartoli up superbly. This is a fascinating project, rivetingly performed and presented.


---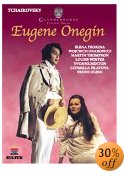 DVD: Eugene Onegin / Prokina, Drabowicz, Thompson, Winter, Minton, Olsen, Davis, Glyndebourne Opera (October 2005)

Graham Vick's acclaimed production of Eugene Onegin sets Pushkin's tale of doomed love, tragedy and rejection against an acutely observed backdrop of Russian society, with spectacular choruses and dances. Tchaikovsky's powerful music vividly conveys the passion and despair of the young Tatyana as she declares her love for Onegin. With Elena Prokina as Tatyana, Wojciech Drabowicz as Eugene Onegin, Martin Thompson as Lensky. With the London Philharmonic at Glyndebourne Festival Opera. Directed by Graham Vick. "Vick ... has created in Onegin a production of near-perfection" DAILY TELEGRAPH "Onegin received precisely the kind of staging and performance that makes Glyndebourne's world-wide reputation." NEW YORK TIMES "Elena Prokina's Tatyana, eagerly awaited, more than filled expectations ... her portrayal here had dramatic truth and intelligence: shy at first, she seemed totally possessed in the Letter Scene ... Her misery at the Larin ball was painful to see." OPERA


---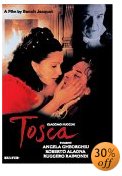 DVD: Tosca / Angela Gheorghiu, Roberto Alagna, Ruggero Raimondi, David Cangelosi, Antonio Pappano, Royal Opera (October 2005)

Tosca: A Film by Benoit Jacquot, after the libretto of Puccini's Opera. With Angela Gheorghiu as Floria Tosca, Roberto Alagna as Mario Cavaradossi, Ruggiero Raimondi as Baron Scarpia. Conducted by Antonio Pappano with the Orchestra and Chorus of the Royal Opera House, Covent Garden. How often has it been said that opera can't be translated into film? That the camera lens accentuates an opera's artificiality and turns the protagonists into caricatures? Benoît Jacquot's masterfully inventive two-hour Tosca, will change the minds of the most diehard opera buffs and win over newcomers to the art. What's even more astounding is that this is Jacquot's first venture into opera. Yet, that may be just the point. What makes his film so compellingly audacious is that from the very start he juxtaposes black-and-white scenes of the conductor, Antonio Pappano, and the actor/singers in the recording studio with the staged opera in order to reveal the energy and work that goes into realizing a mighty work of lyrical art and ensemble acting. At other times, he uses soft-focus and grainy black-and-white and color footage of the Roman countryside, the Castel Sant' Angelo and the interiors of Baroque churches to illustrate what the actors are singing off-screen. These scenes add immeasurably to the opera's enthralling lyricism. Giacomo Puccini's music and Guiseppe Giacosa's libretto are mesmerizing and unforgettable, both enhanced by the director's focus on the drama between the three main protagonists: Floria Tosca (played by the Romanian soprano Angela Gheorghiu), her lover, the painter and political radical Mario Cavaradossi (played movingly by Roberto Alagna, Gheorghiu's off-screen husband) and the vilely magnetic Il Barone Scarpia, the fascistic Roman governor (Ruggero Raimondi). From the opening credits of red typeface on black ground, to the surprising black-and-white filming of the conductor guiding the cast with his baton through the opera's overture and first arias, to the first act in the church, the movie embraces Tosca as a drama of unbridled passions. Through the astute use of hovering overhead shots and swirling camera angles, the film projects and intensifies the emotional upheaval of the three protagonists--the possessively jealous Tosca, the tender and placating Cavaradossi who assures her she has no rivals, and the terrifying Scarpia, determined to capture the Italian fugitive Angelotti (Maurizio Murano). Jacquot demonstrates here how film can strengthen the opera's drama—the silence of the protagonists, their tortured faces, the intensity of their love, their hate, and their fear. In the second act, which takes place in the Palazzo Farnese, the dramatic interplay between Tosca and Scarpia is spellbinding. Scarpia, dining in a darkened room lit only by a roaring fire and candlelight, plots his seduction of Tosca while admiring his contorted face in the gleaming blade of the knife that he also uses to cut a bloody piece of meat. The knife is appropriately prophetic since it is the very blade with which Tosca will kill him later in the scene. Dressed in a dazzling red gown with a sweeping train, Tosca is a stunning contrast to the dark Scarpia. Her fiery sexuality understandably motivates Scarpia's temptation as it leads to his final (albeit well-deserved) doom. The finale on the rooftop of Castel Sant' Angelo has cumulative power, with Tosca leaping off the parapet into the black void after she realizes that Cavaradossi has been shot with real bullets, instead of the promised blanks. Jacquot has filmed the opera exactly as the libretto directs, ideally capturing its drama and lyricism. Even with Tosca's violent ending, Puccini's great art provides catharsis, a transporting emotional release that soars after the deeply felt power of the tragedy.


---